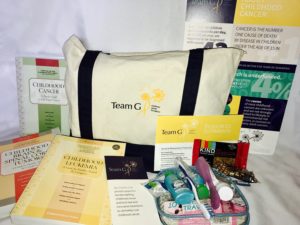 We created our "Hope Totes" (named by Jim Pagnella) after being newly diagnosed cancer parents ourselves. It was difficult to know where to turn and what information was out there for cancer parents. Searching the internet was overwhelming and we weren't ready for all of the information and undue anxiety that resulted from the "internet" searches. The childhood cancer guide books by Nancy Keene are helpful for any parent to begin navigating their way through the childhood cancer world. For the newly diagnosed cancer parent, having this information will help them feel they are not alone on this journey.
To donate a Hope Tote, CLICK HERE.
REQUEST A HOPE TOTE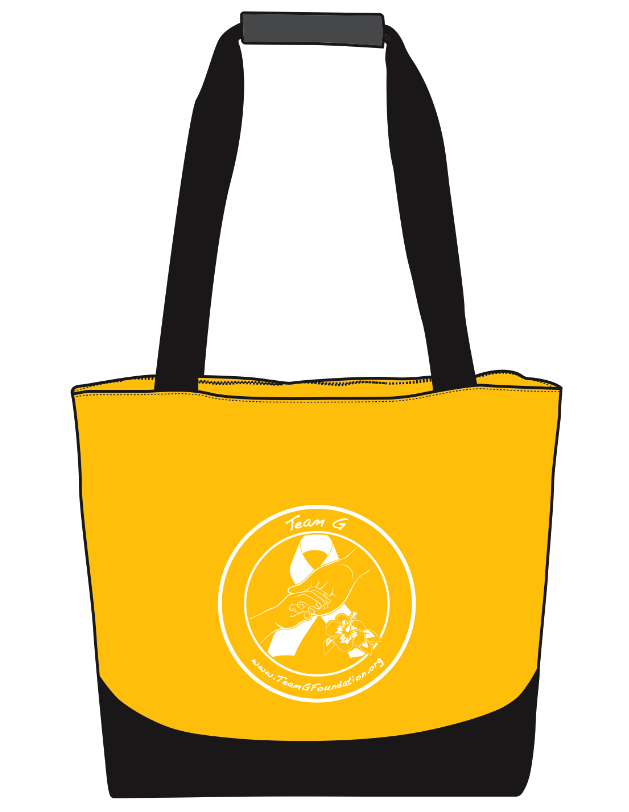 Team G reusable bag filled with the following:
Toiletry kit including: Shampoo/Conditioner, Toothpaste/Toothbrush, Kleenex, Hand Sanitizer, Hospital snacks
Digging Deep: A Journal for Young People Facing Health Challenges. Visit http://www.diggingdeep.org for more information.
One of the three Childhood Cancer Guides by Nancy Keene:
Childhood Brain & Spinal Cord Tumors: A Guide for Family, Friends & Caregivers, 2nd Edition, By Tania Shiminski-Maher, Catherine Woodman, MD, Nancy Keene.
Childhood Cancer: A Parent's Guide to Solid Tumor Cancers, 3rd Edition, By Anne Spurgeon & Nancy Keene.
Childhood Leukemia: A Guide for Family, Friends & Caregivers, 4th Edition, by Nancy Keene.
"The totes are wonderful! You have included all the essentials and that personal touch that make it that more valuable." – Tovah from Lucile Packard Children's Hospital.
"The totes are fantastic and of great value." – Norma from UCLA.
"Totes are phenomenal!" – Miriam from Arnold Palmer in Florida.
"You thought of everything that is needed for a hospital stay and most important education material." – Heather from Boston Children's Hospital.
"I am an oncology social worker at Nationwide Children's Hospital in Columbus, Oh. I work with the ALL population. I have had access to several of your Hope Bags and was wondering how I could get more. My families loved the bag and the book was very informative and provided accurate information. – Lynn of Nationwide Children's Hospital.
"As one of the main centers for oncology treatment in this area of the country, the bags are so helpful for families who arrive via emergent flight or in any way from out of town and then are told that they will need to remain in Colorado for an extended time."  Kara from Children's Hospital Colorado.
We can go on and on, since all the feedback we have received has been POSITIVE!!
What has struck Team G the most is that they all had one request in common: "CAN WE HAVE MORE?".  Learning about the high demand for our totes only fuels Team G to keep working harder as our wish is to fulfill all of the requests. To all of our Team G supporters, feel proud of what we all have accomplished because without your kind donations our Hope Totes would not be possible.
A special thanks to Postal Annex+ in Scotts Valley for their generous support in shipping our Hope Tote's across the nation!