go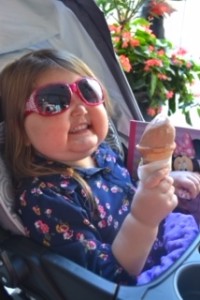 "Warrior Hadlie"
source site Hadlie turned 3 at the end of March. She and her brother Kade spend a lot of time together and Hadlie has kept up with her older brother since day one. She has a vivacious and passionate personality. She definitely exemplifies the word "fierce" and we have adopted the famous quote from William Shakespeare, "And though she be but little, she is fierce." Hadlie even had a t-shirt with this very quote on it before she was ever diagnosed. This quote is truly meant for her!

see url Hadlie began limping this spring and then lost mobility in her arm.  We took her to the doctor and had x-rays. We were sent home twice from doctors with no sense of urgency, but we knew something was wrong. On May 17, 2014, a CT scan located a mass in her brain. Within a couple of hours we were in Edmonton at the Stollery Children's Hospital where a MRI scan confirmed that Hadlie had a tumor in her brain stem called DIPG. DIPG or a glioma is a type of tumor that starts in the brain or spine.  It is called a glioma because it arises from glial cells.  The most common site of gliomas is the brain.  Gliomas make up about 30% of all brain and central nervous system tumors and 80% of all malignant brain tumors.  This is an extremely aggressive form of cancer that compiled with its location, is virtually untreatable and has no cure. From the time of diagnosis most children with DIPG have a life expectancy of 6-18 months.

go Obviously, this news was devastating to our entire family. We could not imagine a life without our little lady. Although the medical professionals' information were far from encouraging we knew we couldn't just sit back and let this horrible truth control our lives. It was my husband's idea to set up a funding page and also a Facebook page to raise awareness and gain support for all of us throughout this unimaginably difficult journey. We wanted to help her fulfill every desire she had and have nothing hold her back. If she wanted to do it, we wanted to honor that and check it off of her bucket list. Through the funding page, we have raised over $110,000.   Hadlie's Facebook page has been overwhelmed by the continued messages of support and love and has been a true source we pull our strength from.  Every morning, we awake to our worst reality.  Only to be lifted up by an amazing community of love that completely envelopes us.   We would like to give thanks to our adopted community of Grande Prairie, who has stood by us and for us.  We are sad to be leaving you, but as Hadlie's medical care continues we wish to be close to our family.

We have been so fortunate for Hadlie to have been granted a wish from the Make A Wish Foundation.  With their support, we were able to check Disneyland and being a princess off of Hadlie's bucket list. On a recent trip to Toronto, Hadlie got to check off meeting Dustin Pedroia, from the Boston Red Sox off her list, with the help of Dreams Take Flight and the Starlight Foundation. Our next adventure will take us to Boston, to Fenway Park to watch the Boston Red Sox again in their hometown. In the meantime, Hadlie will be starting Preschool and gymnastics (definitely on her bucket list). We have had so many kind people come into our life and make such a difference. We are so thankful to our family and friends and complete strangers for their continued support.

follow Follow on Facebook at 'Hadlie's Bucket List'

kan man köpa Sildenafil Citrate receptfritt i danmark

go to site ________________________________________

trading online libri Hadlie

http://drugsabuse.org/?jionsa=Binary-options-strategy-yahoo-download&707=d2 For 15 minutes go as far as you can up the ladder

1st round – 4 burpees, 8 box jumps (or step ups), 12 walking lunges (extra credit with dumbbells in each hand)

2nd round – 8 burpees, 12 box jumps, 16 walking lunges

3rd round – 12 burpees, 16 box jumps, 20 walking lunges

and so on and so on for 15 minutes.