la migliore app per trading on line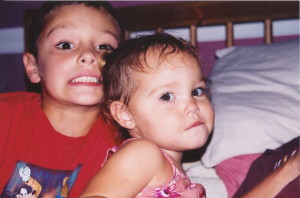 "Angel Jalen and Angel Breanna"
anyoption mindesteinzahlung Jalen Matthew Thayer
"Have Faith Be Strong"
January 10, 1996 – April 6, 2011
source link Jalen Matthew Thayer was born in Pasadena, California on January 10,1996. He was our first born son. His brother Bailey was born in 1997, his little sister Breanna in 2001,and his baby brother Sammy in 2002. Jalen loved his family and spending time together with family. When he wasn't playing sports, he was with his mom, dad, brothers, and sister. Jalen was an outstanding athlete and competed in football, basketball, lacrosse, cross country, and track & field. He was an All American Track & Field Athlete and qualified for the Junior Olympics National Championship Meets from 2005 – 2008.
tastylia review In July 2009 he went to the Emergency Room with severe headaches. Jalen had a brain tumor. It was only a few years earlier that his little sister, Breanna, lost her battle to cancer at the age of 4. Our family was devastated beyond belief. Despite what Jalen had witnessed as his little sister Breanna battled cancer and lost her life in the end, he had faith that God would get him through it. He came up with the slogan HAVE FAITH BE STRONG. Jalen was determined to be strong and not allow cancer to take his life. Jalen showed tremendous strength, courage, and faith throughout his treatment. He continued going to school and finished middle school with a perfect 4.0 gpa. He continued playing the saxophone in the band as well. And most impressive was he continued to compete in the sports that had always been a part of his life. Jalen wanted to help other kids who were going through cancer treatment. He wanted to write a book and he started a charity with his brothers to help other kids like himself and his little sister Breanna. We will continue the work started by Jalen in his memory and that of his little sister Breanna. Have Faith Be Strong is that organization. Jalen's spirit lives on along with his legacy.
click Breanna Elise Thayer
"Bre Bre"
March 8, 2001 – July 25, 2005
operazione binarie simulate Breanna was born in Pasadena, California on March 8, 2001. She liked dressing up as a princess and dancing around the house. Breanna loved spending time with her family and bossing around her brothers. Breanna was a healthy, happy, and loving little girl until she got sick and was diagnosed with cancer shortly after her 3rd birthday. Breanna showed tremendous courage and strength throughout her treatment. Breanna lost her battle with cancer but her spirit is alive and well. Breanna is the inspiration behind Have Faith Be Strong, the organization established in her (and her brother Jalen's) honor and memory.