Team G's Cookies for Kids' Cancer Bake Sale 2012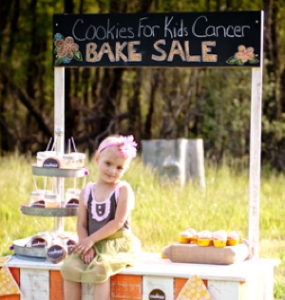 While everyone knows that September means "Back to School", what many people may not know is that September is also Pediatric Cancer Awareness month.  While many of us are running around getting the back to school essentials, there are too many moms spending their days in the hospital as their child gets chemotherapy and radiation. While many of us await the news of what teacher our child got, 7 parents today are getting the news that their child as cancer.
In honor of the local children in our community who have fought or are currently fighting cancer, Team G is once again organizing  bake sales across Santa Cruz County on  September 29th to raise money for Cookies for Kids' Cancer and Team G Foundation. Last year with the help of all of you, $20,000 was raised, and we hope to beat that amount this year.
During Gabriella's treatments, Kristin had an inspiring idea to throw a county wide bake sale for Cookies For Kids' Cancer. CFKC is a national organization to support research for new and improved treatments for children fighting cancer. This organization has grown near and dear to Kristin's heart and meeting founder, Gretchen, has made her more inspired to continue the fight against childhood cancer.
The local paper, Santa Cruz Sentinel, shared the story of our efforts to throw this bake sale and with the help of family, friends and the Santa Cruz community, Team G raised over $22,000 for childhood cancer research.
"I felt as if I were on a cloud looking down on all the amazing activity going on over the two days and the weeks leading up to the bake sale," Cosner stated in an email. "It was extraordinary to see a community come together with such enthusiasm and heart. I was so honored to be a part of it all. There's no way it would have happened without everyone's participation and dedication."
Click on the following links for the articles from the Santa Cruz Sentinel.
Sweetness in the Middle of Difficulty
Sweet Success for Team G's CFKC Bake Sale
BAKED GOODS NEEDED
As we did last year, we would love delicious beautiful baked goods to sell at our events.  The baked goods can be anything from:
cookies (Chocolate chip, peanut butter, sugar, ginger, oatmeal, snickerdoodle, etc
cupcakes, (vanilla, chocolate, etc)
brownies,
rice crispy treats,
cake pops,
breads (pumkin, zucchini, banana)
lemon bars,
granola bars,
Paleo treats,
little pies in a jar,
jam in a jar,
gluten free treats, …whatever your heart's desire to create!
Our DROP OFF of baked goods will be on Saturday, September 28th at Pacific Cookie Company at the Sash Mill from 12pm to 4pm.
For cupcake orders, please visit: http://paystand.me/19x31ze
For cookie orders, please visit: http://paystand.me/16rm1gs
PRESENTATION
Presentation of the items is best done in small baggies tagged with a tag, sticker or distinct way to label your goods.  Please label the items if they contain nuts or any dietary specialties. Platters are great as well!  Please label your platter with the items and we will keep them together. Baskets are also a great way to display goods.  Please label the basket with the items and we will also keep these together!  If you would like baskets and platters back at the end of the event, please write your name and phone # on the bottom.
AMOUNT
Whatever you can make, we can take!  Please indicate the amount you would like to bake in an email to us.
VOLUNTEERS
We would love some dedicated volunteers to help us fight pediatric cancer on the day of the event to SELL…SELL!!  We have two shifts for Aptos, Capitola, and Scotts Valley: 9:30am to 12:30pm OR 12:30 to 3:30pm. Let us know the time and place you would like to volunteer and we will put you in contact with your Team Captain!
Watsonville will have different hours so please contact me if you would like to be a part of this event!
We would love to have the local girl scouts help us again!  Please contact us if you would like your troop to be involved.