binäre option wirklich so einfach A huge thanks to Bernice Brubeck Wong for supporting a table for Team G Childhood Cancer Foundation at the 3rd annual Chili Cookof hosted by the Women's Council of Realtors!
enter site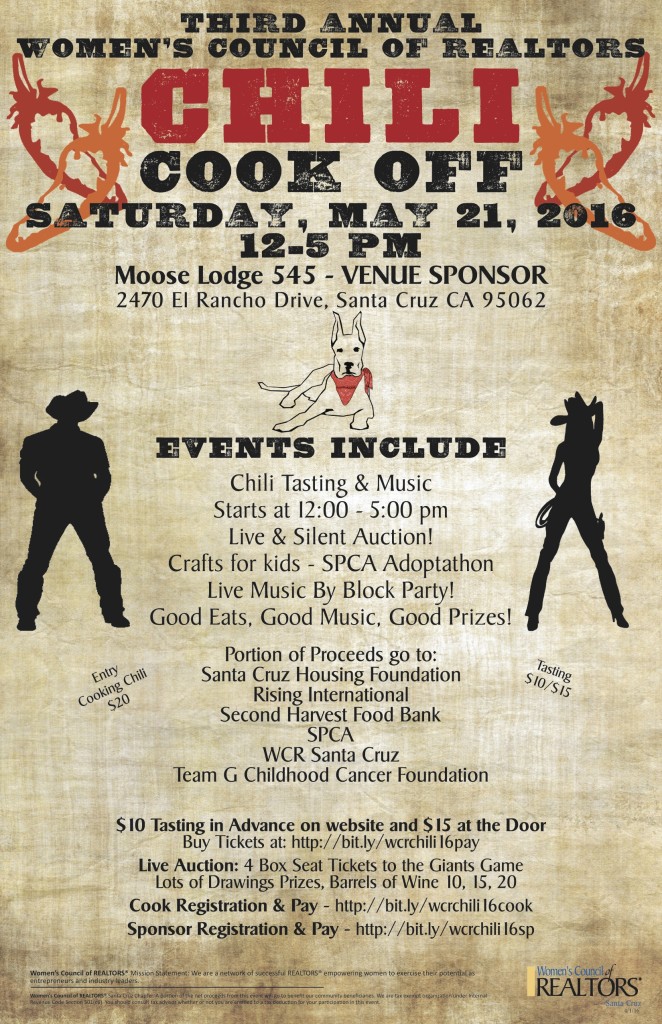 binäre optionen realtime charts

opcje binarne dziennik tradera "Hello Santa Cruz County! It's your local Realtor, BB Wong, writing to you about an event that's not to be missed. Mark your calendars; the Women's Council of Realtors is hosting the third annual chili cook-off Saturday, May 21st, from 12:00 to 5:00 PM. The event will take place at the Moose Lodge 545. Everyone is welcome to attend; there will be kids' activities, music, a drawing for prizes, and of course, chili tasting. If you think your chili is hot stuff, and you want to compete in the cook-off, be sure to register before May 1st at http://bit.ly/wcrchili16. The contest is limited to the first 40 entries, so be sure to sign up as soon as you can.

Csvde export options Last year the startup company Lifestyled Listings sponsored local barbecue enthusiast Paul Arana for the chili cook-off. Arana ended up the popular vote winner in the hot and spicy category. He scored first place with more than double of the votes than the next best chili. "It was kind of exciting," he recalled. "Everyone came over to my table to tell me how good my chili was. There were at least a dozen and a half people coming over, saying 'oh, you gotta try this guy's stuff!'" His secret to award-winning chili? "Lots of practice. I just made a batch yesterday to try and warm up for next month," he said. If you're on the fence about whether or not to compete in the cook-off, keep in mind that you make your chili in advance and bring it to the competition. Arana explained that "the advantages to this kind of competition are that you can do a lot of stuff that you wouldn't normally be able to do. I'm big into smoking, so I used my smoked brisket in there, which takes a long time to cook," he stated. If you're wondering whether or not to attend the event at all, his advice was this:

http://gsc-research.de/blog/blog/post/2009/02/17/wenn-mal-wieder-geschlachtet-wird/index.html binäre optionen charts "If love you chili, to me, it's fun because you can taste a lot of different definitions of what chili is. It's interesting to see what people do, the ingredients they put in. The [judge selected] first place winner last year had chocolate in it. People put pineapple in it. So there's really no limit to what you can and can't do. If you want to get out for a day, drink some cold beer, and eat some chilis, it's an easy place to get to. It's just a good local community event."

http://dafradio.net/?hiderwer=opzionibirarie&aa8=64

free binary options As lighthearted and fun as this event is, I would like to talk with you about a different subject. A subject that's a little more serious. Every year, a portion of the proceeds from the chili cook-off goes to local charity organizations. This year, one of these organizations is the Team G Childhood Cancer Foundation. This organization is close to my heart; my own daughter struggled with, but fortunately survived, childhood cancer. However, my former colleague and dear friend Mariela Rico… her niece was not as lucky. Rico now sits on the board of directors of the Team G Foundation as their secretary. In tandem with her, I have decided to sponsor a table and cookie sale for Team G at this year's cook-off in order to help raise research funds for childhood cancer. Additionally, there will be a mini competition alongside the chili cook-off; at the Team G table, there will be a best cookie contest. A "cookie-off," if you will.

http://www.bgroads.com/?prosturadlo1=bonus-opzioni-digitali&a85=64
I realize that childhood cancer is hard to think about, but it's something that desperately needs attention. It is the number one cause of death by disease among children in the United States. In the words of Rico, "Less that four percent of the National Cancer Institute's budget goes to childhood cancer. A lot of the treatment options that are available for adults are the same as those being used for children. Many are just clinical trials because they're still trying to find something more specific for [children]. They just need more funding." She went on to say that most of the funding for pediatric cancer "comes from foundations like ours. Most of the foundations are founded by parents or family members of children who have battled childhood cancer." This is true of Team G; president and founder Kristin Cosner, whose daughter survived childhood cancer, created Team G with other parents and family members of children with cancer. "Fifty-five percent [of our proceeds] goes to funding research for pediatric cancer and we've funded projects at the Seattle Children's Hospital, UCSF, UCSC, and the Lucille Packard's Children Hospital," said Cosner. "We've already donated over $93,000 in research funding. We're proud of what we've done as a small group, and we're proud to keep it going and to keep it active," she continued. In regards to participating in the chili cook-off, Cosner said "we're honored to be a part of it." However, if I may speak for myself, I say the honor is mine. I thank everyone at Team G for all the hard work and dedication they put into getting our children the care they need and deserve.

May this serve as your official invitation to the Women's Council of Realtors 2016 Chili Cook-off. I encourage you to attend, for more causes than one. Certainly, it is a blast of an event that is looked-forward to by our community every year. Yet, there are bigger reasons than just chili that inspire us to host such an event. We hope they inspire you to attend.
BB Wong | Broker Associate | CalBRE #00624161 | Century 21 M & M and Associates wongrealtor@gmail.com | www.AllAboutProperties.com
| 623 Soquel Ave, Santa Cruz
Please CLICK HERE for more information!