Funds raised by Team G Childhood Cancer Foundation are directed to the two parts of our mission: Our Hope Tote Program and Pediatric Cancer Research. We are committed to serving our children until the day when no child dies or is left with life long effects from this devastating disease. Below are just a few of the ways you can get involved:
Shop Amazon
Donate to Childhood Cancer Research
With less than 4% of the National Cancer Institutes total budget allocated to all 12 types of pediatric cancers, there is a great need for further resources to bring cutting edge cancer treatments for children fighting cancer.  Team G is partnering with some of the top pediatric cancer centers on the west coast including Lucile Packard Children's Hospital, UCSF Benioff Children's Hospital, UCSC Treehouse Project and Seattle Children's Hospital to support clinical trials and childhood cancer research to fund less toxic treatments and ultimately find a cure.



Donate a Hope Tote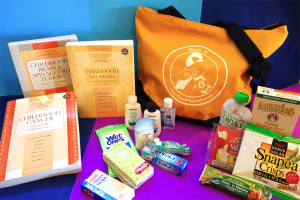 We created the idea of our "Hope Tote" (named by Jim Pagnella) after being newly diagnosed cancer parents.  It was difficult to know where to turn and what information was out there for cancer parents. Searching the internet was overwhelming and we weren't ready for all of the information and undue anxiety that resulted from the "internet" searches.
Totes include a childhood cancer guide book, toiletries, hospital snacks and references for childhood cancer organizations across the nation. We believe the childhood cancer guide books would be helpful for any parent to start navigating their way through the childhood cancer world.  We've also included brochures on pediatric cancer organizations who have similar missions as Team G Foundation.  We believe that uniting together is the best way to fight pediatric cancer.  For the newly diagnosed cancer parent, having this information will help them feel they are not alone on this journey.
*TO REQUEST A HOPE TOTE, CLICK HERE.




Make a General Donation