Gabriella's Snow Day 2017
http://talkinginthedark.com/wp-content/uploads/2014/04/Birthday-Mix.jpg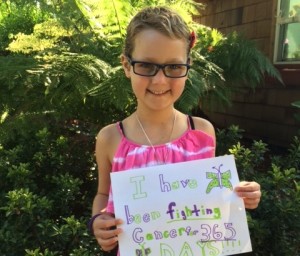 "Warrior Lauren"
source link My name is Lauren. I am nine years old and I have been fighting T-cell Non Hodgkin's Lymphoma for a little over a year.  It all started when I felt a lump on my neck and tingling in my arm. My mom took me to the doctor and they said it was a swollen lymph node but nothing to worry about. A couple days later we left to go to Seattle and then Vancouver. On the trip I had trouble breathing so my mom took me to the doctor in Vancouver. The doctor said it was asthma and gave me an inhaler.
dating in chicago vs nyc My mom made an appointment for the day after we got back from vacation. They did x-rays, an ultrasound, and they took my blood. On our way home, we got a call from the doctor telling us to go to the ER at Lucile Packard Children's Hospital because there was a mass in my chest. I was really worried and scared. They gave me an I.V., a CT-scan, and an ultrasound. I really did not want to stay the night, but I ended up staying for two weeks. The day I was supposed to start chemo, I woke up because I was having trouble breathing because the mass was pressing on my airway. The nurses called rapid response and the emergency team had to force a breathing tube down so I wouldn't die. They put me asleep for four days.
http://varisportsclub.com/?biud=un-esempio-di-opzioni-binarie&401=c4 When I woke up I didn't know what was going on or where I was. My dad told me I was in the Pediatric ICU. Since the breathing tube was forced down, it paralyzed my left vocal chord and I couldn't talk for an entire month. When we finally got to go home I was on some crazy drugs called steroids. They make you really hungry, moody and have chubby cheeks. The chemotherapy made my hair fall out. The mass caused a blood clot and I had to take shots twice a day for months. I have a port in my chest to make getting IV medicine easier.  The great news is my mass shrank 86% in the first month.
source The hardest part of chemotherapy is that it has caused me to get a fungal infection. I had to go into the hospital six days a week for five-hour infusions which made it hard to go to school. I still take medication for that. I have had bacterial infections, high blood pressure, liver issues and still have paralyzed vocal chords which makes it hard to breath and I can't take one of my medicines.  I still take daily chemo drugs and will need to take them for at least another year.
gravity center indicator forex ~ Warrior Lauren
http://acps.cat/wp-json/ Beginner Challenge (Home)
36 minute AMRAP (AMRAP = as many reps as possible)
7 – burpees
9 – step ups
11 – squats
follow site Advanced Challenge (Gym)
36 minute AMRAP
7 – burpees
9 – box jumps
11 – DB thrusters